I am proud to say that I set out to run another half marathon and finish injury free and I have done just that! The race was incredible and I am super proud that I stuck with the plan of making this a "B" race in preparation for my next big half marathon 8 weeks away.

The biggest thing I am surprised about is that I was able to run the entire 13.1 miles WITHOUT stopping to walk! Once the gun went off, I did not stop once, not even for water!! If I needed to refuel, I ran pass the station, drinking as I ran. I remember at mile 9 I poured gatorade straight up my nose! NOT FUN! Maybe it gave me extra energy or something! I am shocked at how I went from having to walk each mile back in December and now in a short time I was able to run the entire distance! I kept my pace SLOW, but it worked! I finished injury free, happy and healthy with another medal around my neck, for this I am so thankful.

I am proud to say that even though I held strong and did not push myself too hard I somehow managed to run faster than my Dallas White Rock Half time from last month. I think this is 100% due to weight loss. I have lost 16.8 lbs since that race and I have no doubt that it helped me go the distance faster with less effort. I was smiling, laughing, talking during the race and post race I felt amazing! Again, weight loss matters! It excites me to see where I will be at the end of this year after running 7 half marathons and one full in December!

The race was at White Rock Lake in Dallas. TX. There were a few hills in the residential areas that were challenging but manageable. The big hill came at the finish. The last 100 meters or so was all uphill which was quite difficult but I managed to sprint through! The only part of the course that I thought was not well planned was when we were running along the dam and at the end we all had to run down a staggered ramp back down back to street level. I had to take this VERY slow because of my knee and it was frustrating to break my stride. I zig zagged around quite a bit so I ended up running 13.31 miles but it was worth it to find a good placement on the course for my knee to run on. Several of the roads where curved and so I found myself running in the middle of the road and so on to keep my knees level. At mile 12 I felt a knife stabbing pain in one of my knees when going down a brief hill while at the same time making a sharp turn but other than that, my knees did really well.

Here are my splits. I wish they were faster but I am sitting here feeling great and my knee is awesome so I guess slow and steady worked for me!

Total time - 2:23.03, 10:45 mm pace. Chip time - 2:23.04

Mile 1 - 10:30
Mile 2 - 10:25
Mile 3 - 10:57
Mile 4 - 10:40
Mile 5 - 10:55
Mile 6 - 10:47
Mile 7 - 10:49
Mile 8 - 11:00
Mile 9 - 10:47
Mile 10 - 10:40
Mile 11 - 10:48
Mile 12 - 10:57...knee started to hurt a bit here after going down hill and a sharp turn.
Mile 13 - 10:59
.31 - 9:15....and uphill too! yea me!
More pics to come but they are all on Micah's camera. These were from the iphone....



Heading out for my HM early in the morning!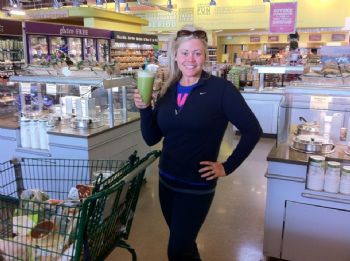 My HM reward drink! Kale, Swiss Chard, Lemon, Apple and Ginger juice at Whole Foods!

A brief moment of thanks........

Thank you God for giving me another chance to do my best with this life you have blessed me with!

Thank you to my precious husband for cheering me along the way and for being my number one supporter, coach and best friend for life! I could not do this without you.

Thanks to my parents, my family, my running friends on Spark, Daily Mile and FB who always inspire me! Sharon, Nancy, NATF, Mike, CC, Wendy, Megan, Magda, Bekka, Patty....all of you guys are SO amazing....thank you!


OK, 8 weeks until my next race!! The Susan G. Komen Half Marathon for the cure! March 27th!!! My goals are to loose 8 lbs by then and to run a 2:20...or less if possible! Let the training begin!!