Wellness totals for the year starting January 1st, 2011.....

Weight loss - 1.4 lbs!!! 10.6 lbs to go!!
Inches loss - 4.5 inches!!
Miles - 36.89

Daily results of 12 lbs by 12 months old challenge. Day 12...

Good run today. I was super tired as I had to run later on in the day but nevertheless, I did well. My knee held up well despite the cold. I was pretty sluggish my first few miles but then hit my stride, right as the run was over! LOL!

Time - 5 mile run - 53:51 mins plus cool down of .50 miles - All negative splits!! SLOWLY getting faster! Hoping my knee will continue to improve! Here are my splits......
Mile 1 - 11:32
Mile 2 - 11:05
Mile 3 - 10:48
Mile 4 - 10:18
Mile 5 - 10:08
Calories burned - 806
Calories consumed - 1,355

What was on my plate today....Here are some pictures of my homemade juice! Recipe below under Meal 3.......It was YUMMY!!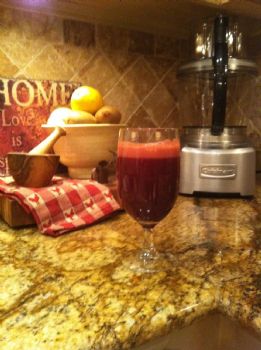 Meal 1 - Oats, flaxseeds, Bobs Red Mill High Fiber Cereal, Apple and FF milk. Water with lemon.

Meal 2 - Lunch with my husband at our favorite Turkish restaurant!! Chicken kabobs, red lentil soup, eggplant, garlic and onion mix with a small about of bread ( about 4 bites). Water with lemon.

Meal 3 - Cioppino with Tilapia. Homemade Juice mix - Swiss Chard, Lemon, Ginger, Beets, Watercress, Apple, Carrot, Mint.

Meal 4 - Yogi Detox tea.