I am now less than half of a pound from my March goal. Super excited! I just need to stay strong and focused. I NEVER thought I would be losing this quickly. I am in shock. Even after years and years of trying everything and yes, losing a great deal of weight, ever since December when I started changing my diet even more than before, my life has truly transformed. It took me 2 years to lose about 70 pounds and as of today, I have lost 21.6 pounds in less than 3 months. NUTRITION MAKES ALL THE DIFFERENCE!!! I am going to say this until I am blue in the face as it is so true! I will expand on this later in future blogs.....
Now onto today's results!!
March Meltdown Challenge Results - Starting March 1st
Weight Loss - 6.2 pounds
Inches Lost - 2.25 inches
Miles - 70.59
Wellness totals for the year - Starting January 1st
Weight Loss - 21.6 pounds
Inches Lost - 10 inches
Miles - 199.33
Jen's typical start to the morning - Lemon drink, Oolong tea and beet, ginger, lemon...etc...juice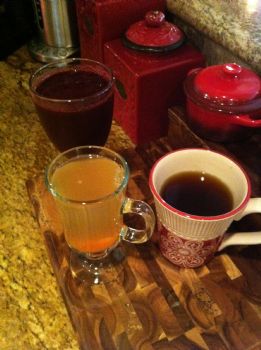 Breakfast - Quinoa, GOL Raw Fiber Blend, Chia seeds and wheat germ with fresh strawberries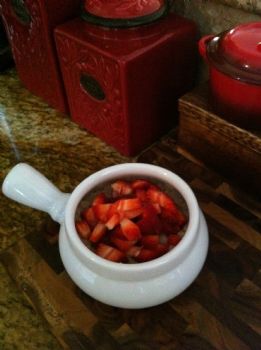 Lunch - 4 egg white omelet with shiitake mushrooms, onions, garlic, tomatoes and spinach.
Dinner - Whole wheat couscous with raw veggies, garbanzo beans and balsamic vinegar....for dressing....add lemon, vinegar, greek yogurt and dijon mustard along with seasonings like rosemary, hot pepper and sea salt. On the side a couple of pieces of Joseph's flax bread with hummus. Along with this I drank a pot of tea, Mighty leaf Orange and Green Tea. YUMMY!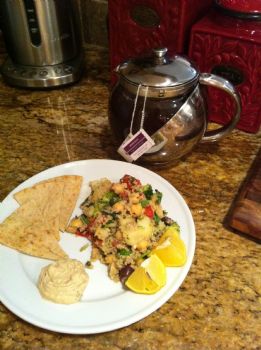 Dessert - Greek yogurt, wheat germ, a small amount of chocolate Almond milk, stevia, vanilla, almond extract, raw caco powder, maca root, GOL raw fiber blend and chia seeds mixed together over fresh berries. SUPER good and heathy for you! This was for 2 servings.