Today was good. I was a bit more hungry today than the past two days but I did well with my snacking by drinking lots of water and herbal tea. I did snack on some carrots and a bit of avocado before my lunch which was amazing by the way! I am very pleased with my weight loss so far on the program and it is only day 3!!!

A few things I miss would be my greek yogurt, egg whites and my Nespresso! I keep looking at the machine here at the house and it is taunting me! I am very pleased with how well my energy has been. I am taking this week off of my running so I am most definitely going to need to add some almonds or something mid day once I start running again on Saturday. I need the fuel for energy!!!

I am happy to say that day 3 was a success! 18 more days to go!!

Wellness totals for the year - Starting January 1st
Weight Loss - 10 pounds....2 more pounds until I reach my goal!! SO CLOSE!
Inches Lost - 6.5
Miles - 86.70

The Cleanse Program Totals - Starting February 1st
Weight Loss - 1.4 pounds
Inches Lost - 0

Daily Totals - 2/3
Calories Consumed - 1,205
Calories Burned - 0 day off, resting for a few days post HM.

Meal 1 - Garden of Life RAW Protein powder, Coconut water, Frozen berries, Stevia, Garden of Life Perfect Food RAW and unsweetened Almond Milk.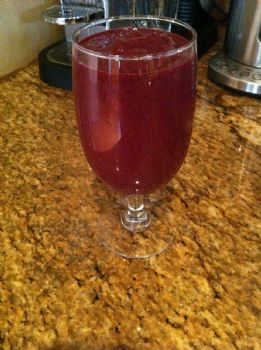 Meal 2 - Snack of carrots and avocado with water. Yogi Detox tea

Meal 3 - Yerba Mate Tea with Hibiscus Ginger Tea

Meal 4 - Brown rice, Chicken, Avocado, Black beans in 2 leaves of raw Nappa Cabbage with a raw veggie salad made with red onion, cucumber, carrots, cabbage and a homemade dressing made from organic 365 Dijon mustard, Braggs ACV, a small amount of EVOO, lemon, cilantro, carrots and ginger...VERY good!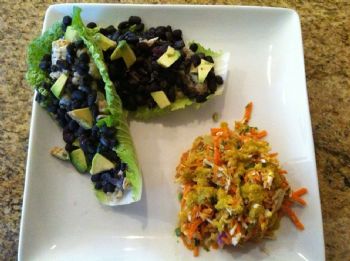 Meal 5 - Homemade Juice!! Swiss Chard, Kale, Dandelion, Bok Choy, Lemon, Celery, Ginger, Apple,Spinach, Carrot and Parsley.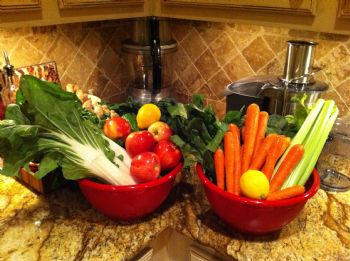 This made enough for tonights dinner plus some for in the morning and afternoon.



Here was tonights dinner


Meal 6 - Evening detox tea and aloe vera juice along with a bunch of water!